About Us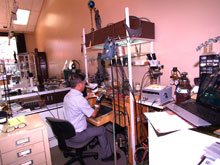 PX Jewelers was established in Old Towne of Orange, CA in 1997.
Mr. BUI, known to his friends and loyal customers as "Tom" is the owner and founder of PX Jewelers. Tom is experienced in both watches and all things jewelry. At the age of 10, he had already begun working with watches and jewelry under his father, Phu Xuong, in Vietnam.
After immigrating to United States, Tom continued his jewelry work experience by being employed under HC Kirkberg Jewelers, located in Iowa, for nearly 7 years. Tom has taken Advance Stones Setting Jewelry Classes from GIA (Gemology Institute of America) since 1992.
In 1997 Tom started his own business, PX Jewelers, which is named after his father Phu Xuong. This is where the "PX" comes from in the business name.
Tom has never backed down on any request from his customers, and his customers are always satisfied with our local service. Our work is fast and efficient. Every task given to us is almost always completed on that same day it was assigned.
Come and see us today! We are open Tuesday-Saturday from 10:00 am until 5:00 pm. Monday's by appointment only.
Thank you for your time. We look forward to serving your watch, clock and estate jewelry needs.